Shifting Marketing Metrics?
Have you noticed that you have less organic search data available? In early February, we highlighted the impact of secure search on our organic search data in 2012. Approximately 31% of our organic search results were "(not provided)". This result means that people are accessing your site via secure search, which prevents you from seeing the search terms they used to find you.
A recent post from HubSpot includes a link to Not Provided Count, a website that counts the not provided results for 60 sites. The real shocker on the Not Provided Count website is the prediction that by the end of 2014, 100% of organic results will be not provided. If that prediction holds up, we'll soon lose an important tool in the SEO toolbox.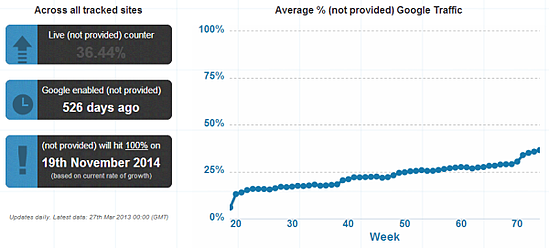 Secure Search Impact Accelerating
While the above chart shows that in the aggregate, 36% of search is not provided, running the Google stats on our website shows a sharp uptick in March – to 57% of organic search falling into not provided.
Gaining Visitor Intel With Closed Loop Analytics
As marketers we need to look to other ways to gauge visitor interests and what they are looking for as a proxy for search terms. We use the powerful and integrated HubSpot tools and analytics to give us insights, not only on website visitors but social media metrics and email marketing responses as well. We now have a fully integrated marketing platform.
We have the ability to track by channel source, web page, social media interest, campaign, etc. and then report key metrics such as visit-to-lead conversions and lead-to-customer conversions. By reviewing these trends, we can assess the effectiveness of our marketing efforts from a multitude of perspectives and determine what content is of greatest interest to our audience.
You Can, Too!
The beauty of HubSpot is that you can have it, too. If you're like most businesses, staying current with the way your customers research you and ultimately buy from you requires constant attention. If you're interested in learning more about HubSpot and how it can help your business, send me a note for a no-obligation consultation to review of your needs and to explore if HubSpot would be a good fit for you.