Recently we spoke with Jeff Nichols, sales manager at PennWell, the organization that publishes Laser Focus World. Trade publications are valuable in reaching niche audiences like optics, photonics and lasers. Jeff is well regarded in these industries for being both practical and strategic in creating advertising plans. Though Jeff and Launch Team President Michele Nichols are not related, they have served many of the same companies, working to meet their advertising and marketing needs. Enjoying a craft beer (see below), they talked through trends in the optics industry right now.
Michele: What are the common trends and challenges you're seeing in optics sales and marketing today?
Jeff: From optics and laser companies, I'm hearing that backlog is slowing down. The smaller projects that usually serve as filler in between the large projects are drying up. This is creating a need for new product ideas, and ultimately it will drive innovation and invention.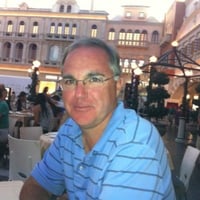 In contrast to that, many companies are actually stepping away from R&D. These companies spent significant time in R&D and forgot to sell their existing product lines. One of our customers is cutting back in this area because they feel they got too far away from their "bread and butter."
Product launch is proving to be challenging as roles shift in growing companies. Everyone involved in the project, from product managers to CEO and marketing, are running at different paces. As optics companies consolidate, the product manager is taking on a growing and often unclear role in marketing strategy. The uncertainty causes a disconnect in the product launch process and hinders the effectiveness of the launch.
To help companies work through these pain points and challenges, we are developing a new, multi-media product that includes a community forum, a website section devoted to solving challenges for optical engineers, and special articles in the magazine. So this new product will reach industry professionals on multiple platforms. It's called the Optical Engineering Exchange (OEX) and will offer solutions for common problems companies face and shed light on different directions they can take.
For companies that are trying to increase sales after spending significant resources in R&D, what are your recommendations?
Add salespeople – The obvious answer that companies tend to overlook is to simply hire more salespeople; even commission-only is doable.
Get out there – Also, get back to face-to-face selling. People have forgotten about relationship development and being personable. The person that visits a customer in their office tends to do better than the one who just sends an email.
Have a plan with measurable objectives – Customers need to utilize better media planning. There are a lot of engineers who get thrown into marketing roles, but they don't tend to look at the long-term in advertising. Instead, companies should ensure that they have a strategic, forward thinker in the role who can plan out a six month or year-long ad campaign rather than just one-off tactics. Brand building is an important side to selling. The companies that remain consistent on all platforms – booth, ads, banners, attire – are the ones who drive a cohesive message to customers.
What should companies consider to maximize return on ad spend?
Be clear in your objective – brand building, traffic, lead generation. 90% of creative doesn't match the desired objective. Yet, 50% of the time a company won't change an element in order to fix the disconnect. When a customer determines what they want an ad to be doing, such as lead generation, they need to make the call-to-action match it. We have started requesting the specific objective of each project so we can ensure that everything matches.
One of our team members, Tom, reviews every print and digital ad to make sure they will perform to expectation. We've also started putting more focus on items that drive engagement. Whether it's increased social media presence or a stronger online profile, our programs are designed to provide customers with engagement opportunities – no matter their ad objective.
When taking budget into consideration, what's the best approach to advertising?
It's crucial that companies have a plan in place. Establishing a plan and monitoring its progress is the best way to utilize an advertising budget. When companies know what they are aiming for, they are able to measure the success and adjust accordingly. I find it's beneficial when a smaller plan is created, and then a weekly or monthly conversation is in place to review the plan's success.
Unfortunately, many companies are lacking in strategy and direction. We are finding that lead nurture and follow-up are absent within companies. They are spending the money to have the advertising generate leads, but they aren't completing the process with the prospects that are qualified. It's an oversight that can be costly in the long run.
Ad blindness or ad burnout is a real concern. How do you help customers combat this?
We see this quite often; repeated content starts to get overlooked. A company doesn't have to create completely new creative constantly to keep things eye-catching. Making small, subtle changes such a different background color or a variation of language keeps it fresh for viewers.
One customer has taken a unique approach and has started supplying multiple creatives up front with instruction to rotate them throughout the month. This makes their ad plan easier and keeps viewers interested.
Our team also utilizes heat mapping to gauge interest levels. This allows us to provide further feedback to customers about what's working, what's not, and where the most popular areas of the site live. Just as I like to see with budget planning, I suggest using scheduled conversations to discuss and adjust the creative tactics.
Thank you to Jeff for taking the time to talk with us!
---
Tasting Notes: This week's tasting is a local craft beer, Saranac Summer Pils. It's a clear and crisp welcome to summer.