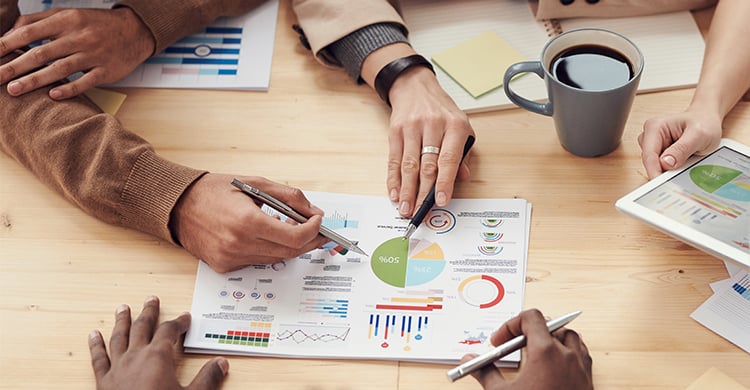 Now that we've entered the second half of a challenging and unpredictable year, it's time to re-look at 2020 goals, and begin the planning and budget cycles for 2021. But how? Maybe it's the unknowns, maybe it's concern for the impact goals can have on your team's morale and motivation—this feels particularly hard this time.

Did you miss our 15-minute video on resetting goals?

First recognize your accomplishments to date—and don't undersell the importance of the health and safety of your employees—As you consider how to prioritize your cash, time and energy, start by asking yourself these three questions:
What one or two things do I want this company to have accomplished this year?
What's standing in the way of scalability?
What size pipeline will you need to meet 2021 targets?
There are lots of actions you can take to improve this year's results, but there may be one or two things you can do right now to lay the foundation for success.
We're seeing companies:
Focus on branding.
Does your brand and message still resonate today? Whether you've outgrown it, pivoted, or need to ensure your brand will support your next stage of growth, many companies are taking advantage of timing to come back strong.


Address their CRM and customer data.
Collaborative sales and internal communication are more important than ever. When your team is out of sync, it makes it harder to offer your high-level of service to customers and make sure you're not missing new sales opportunities. Now is the time to finally take on that CRM project, whether it be implementing a new tool, improving adoption or effectiveness, or integrating your various systems.


Update website and infrastructure for improved lead generation.
Buyer expectations have moved us towards a digital model for the last few years, but this shift has solidified those habits. Your website needs to be built for the prospect who wants to research and learn before talking to your sales team. Consider the customer experience and how they want to engage—it may mean changes to your navigation, conversion, or new ways to engage with sales, like a chat bot or virtual demo.


Build a 'wait list' of interest for a 2021 product launch.
Many are focusing on the activities that will build the pipeline for a strong 2021. Pre-launch activities that build interest and education can help. Although your prospects may not be ready to purchase right now, they may be interested in engaging with your content. Ensure that you have effective automated nurture and email followup implemented to keep them engaged with your brand. Get the automation checklist to get started.


"Get in the door" with smaller opportunities and undertaking account-based marketing for long-term growth.
With lengthening sales cycles and often smaller deal sizes, many are shifting sales and marketing focus to support growth after the initial sale.


Whether its CRM and marketing and sales automation or content development to spark early interest, it can help up your employees' morale and productivity to pick the couple building blocks for 2021 success. Need help prioritizing on the few activities that will pay off in wins that will matter? Request a consult.
---
About Launch Team, Inc.
We are a multi-dimensional, highly focused marketing firm that has helped companies in technical and engineering-driven industries succeed. We've been doing this for over 30 years, increasing and improving our offerings along the way. Our team's backgrounds include optics, chemistry, and biology paired with a core business and marketing focus. This allows our team a unique understanding of your business, the decision makers you work with, and the engineers who will evaluate your solution