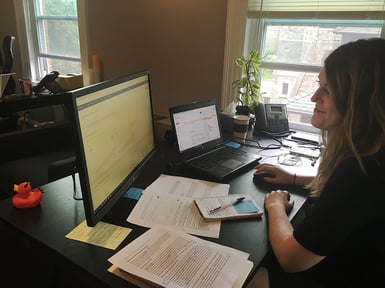 I like to start each day by opening up the HubSpot marketing dashboards for each of my client accounts. I take a look at the numbers, the most honest assessment of how an account's inbound marketing activities are performing.
Oftentimes there are multiple campaigns going on within an account—like two different white papers used for lead generation, along with three blogs to promote them. In addition, there's a trade show coming up with a series of emails and social media posts promoting attendance. And don't forget about that press release, also promoted via email and blog. How can you know where to focus your efforts when there's so much happening at once?
The key here is prioritization based on performance. The data provided in the HubSpot marketing dashboard is a great resource to help prioritize your marketing activities and continue to improve ROI. Smart marketing decisions derive from understanding the gaps or successes that the data reveals.
Here are a few key ways you can utilize your HubSpot marketing dashboard to make smarter, data-driven marketing decisions:
Traffic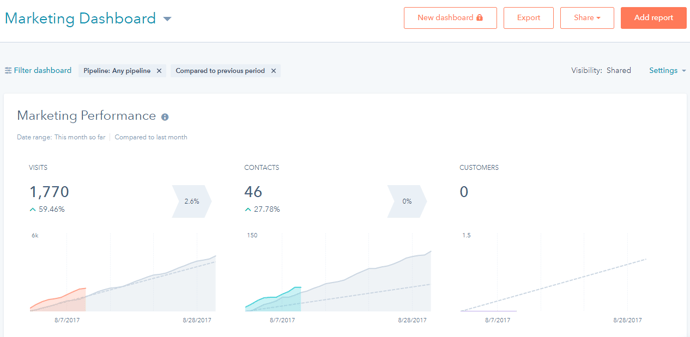 At the top of your marketing dashboard are visitors and new contacts. These key performance indicators are a good way to gauge your overall marketing performance for the month. If you're using an inbound marketing platform like HubSpot, it's likely that lead generation is a main goal for your team. The HubSpot dashboard allows you to compare this month's new contacts (from various website form submissions) to last month's and your overall goal. If this number is low, prioritize how you can make small wins to boost it. If it's high, continue reviewing your marketing dashboard to assess what's been working well.
Useful KPIs:
New contacts (leads)
Visitor goal rate
Contact goal rate
Customer rate change
Blog
The HubSpot marketing dashboard gives you a glimpse of your top five blogs for the month so far, using views as the KPI. This metric can help you to identify whether to continue promoting one topic over others when creating both curated and original social media content, determining next month's blog posts, or planning advertising. This data gives you a clear understanding of what your audience is interested in reading.
Useful KPIs:
Views
Subscribers
Likes and clicks from social media
Comments (on social or blog)
Landing Page
For sales pipeline purposes, looking at your landing page conversion rates is especially useful. Compare the conversion rates of your high-performing landing pages with the low-performing pages. What's different? Does the call-to-action need work? Can the form be more user-friendly? Does the imagery need an update? The data from the marketing dashboard will allow you to improve conversion rates and thus generate more leads. If you are on the Pro level or higher, then you have access to A/B testing features and can monitor your marketing dashboard to decide which landing page to continue using.
Useful KPIs:
Submissions/submission rate
New contacts/new contacts rate
Email
You can view your top emails in your HubSpot marketing dashboard based on open rate and click rate. Knowing what emails performed well allows you to assess what you may need to adjust in the next email campaign. For high open-rate emails, consider using similar subject line structures or clear calls-to-action. For highly clicked emails, evaluate the length of the email, the imagery used, the readability (bullets vs. paragraphs). Use the data to decide where you should make changes and where you should "not fix what isn't broken."
Useful KPIs:
Open rate
Click-through rate
Number of times an individual opened an email (found within that person's contact record)
To all HubSpot users (and future users!), the marketing dashboard is a valuable resource that shouldn't be overlooked. Paying attention to the data, with a little bit of insight and critical thinking, will guide you in making continuous improvements to your marketing strategy and, as a result, building your sales pipeline.
Need proof? Here are a couple of decisions I've made when looking at my HubSpot marketing dashboard:
A client's white paper, targeted to a specific industry (A), was performing better than another white paper targeted to a different industry (B). The marketing dashboard data showed that the conversion rate and new lead count were much higher for white paper A. This helped me decide what blog content to produce next. The blog related to industry A generated 50 new visitors to the website in two weeks and was the client's best performing blog post for the month.
A client's eBook had a spike in downloads – 246 new leads in a week! This wasn't the first time we had promoted the eBook; it had already been shared on social media. However, the call-to-action was much different in this latest post, and we promoted it on several highly targeted social media channels. This finding has helped me decide how to promote the eBook going forward. I use the marketing dashboard to continue monitoring traffic while testing different social media messages.
---
Looking to keep track of the marketing metrics that matter? Download our Marketing KPI Worksheet:
Want to learn how HubSpot can help you optimize your marketing activities? Sign up for a free demo with Launch.