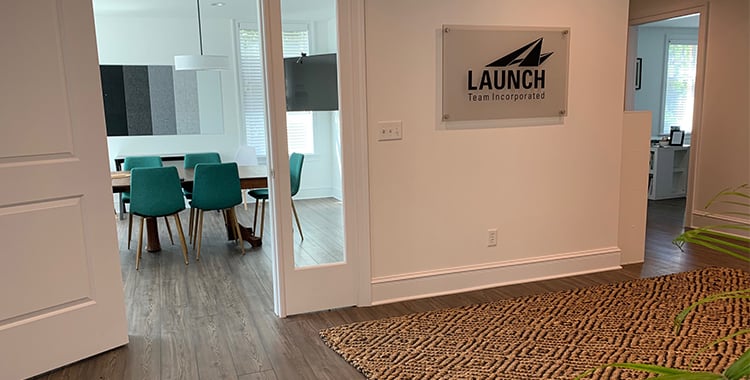 For a company who hires for ability to deal with ambiguity, 2020 has really put us to the test. I am incredibly grateful to work with clients and colleagues who put people first and move forward despite such unusual times.
I'm the daughter of a teacher, so back-to-school season means we're in planning mode— creating 2021 strategic sales and marketing plans for ourselves and for clients, replacing the tactics that no longer make responsible sense, and we're moving forward with new ways to engage and serve our clients' customers. [More on that here.]
With clients throughout the US and Europe, our meetings have always been by video, so the move to remote has been fairly seamless, but there's something about writing on the walls that is irreplaceable to the branding, naming, messaging and planning process. As of Labor Day, we'll open up the office for collaboration and creative space while allowing our team members to work from wherever their needs demand. I will be glad to be back in our space. Frankly, I miss these faces and the energy they bring.
Resetting 2020 goals?
Watch our webinar for CEO's and management on redefining success in 2020.
While it seems like such a reactive year—adjusting and prioritizing employee safety, family needs, and aligning with market drivers—we've made a lot of progress. Here is a glimpse at what's new:
Marketing strategy and product launch for entry into some exciting green technology markets
Tracking to meet or exceed growth targets for clients across markets, with a rapid shift to social and digital marketing tactics to replace live events
Completed our federal Woman-Owned Small Business (WOSB) certification to support diversity targets of some larger clients
Launched a fresh website
Expanded our marketing and sales automation platforms to meet the needs of all sized clients—integrating and streamlining to give sales people more efficient tools for remote sales
Beefed up our project management tools and reporting for more effective outsourced marketing, with less time required of our clients
Held our own—even adding to the team—and supported the community with monthly gifts to FoodLink and others
Check out this year's top 5 resources to date. I hope they help as you navigate your way through the rest of the year:
As we prepare to close the door on the summer of 2020, we feel grateful, lucky, and optimistic. Wishing you and your team a break for these last weeks of summer and a wonderful Labor Day weekend.
Michele Nichols, President
Book my calendar
---
About Launch Team, Inc.
We are a multi-dimensional, highly focused marketing firm that has helped companies in technical and engineering-driven industries succeed. We've been doing this for over 30 years, increasing and improving our offerings along the way. Our team's backgrounds include optics, chemistry, and biology paired with a core business and marketing focus. This allows our team a unique understanding of your business, the decision makers you work with, and the engineers who will evaluate your solution