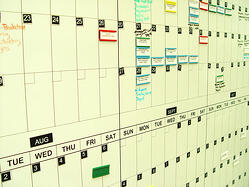 MTOTW #52: After the official launch of your new product or service, there are a few key activities that can help ensure continued success:
First, use metrics such as web traffic, number of content downloads or RFQs, and media interest to assess launch performance. Compare these results with your initial launch objectives.
Next, gather feedback from customers – whether in a survey, interviews, or by monitoring social media. Collect testimonials and early customer success stories to use in ongoing marketing initiatives.
It's important to also gain feedback from your product launch team, as well as sales and channel partners. Look for opportunities to tweak your approach, or ways you can help them sell going forward.
Finally, establish an ongoing plan for lead generation, lead nurture, and awareness.
Each week, we share a quick tip for marketing success on our YouTube and Instagram channels. Follow us there or subscribe to our blog updates so you never miss a tip.
Have a question or request for a future tip? Let us know.
---
Download our checklist for step-by-step marketing and product launch tips.