Report from XPONENTIAL 2018
With more than 8500 attendees, the AUVSI XPONENTIAL show is the largest event worldwide for drones, robotics, and unmanned systems spanning over 20 different industries. In our second year of attendance at the show, we noticed significant shifts in the market makeup, exhibitor's strategy, and the unmanned industry as a whole.
Last year's conference showcased a great deal of unmanned automotive solutions, but this year's show, while still featuring a mix of commercial and defense applications, was largely focused on solutions for the airborne and marine applications. Remember the Transformers? One exhibitor even demonstrated a land-to-water unmanned vehicle.
The UAV market has, in one year's time, experienced significant shifts:
Consolidation: DJI now represents 70% of the market share for the consumer drone market and is the world's largest manufacturer of non-military drones.
Pivot: Exhibitors focused on their core capabilities: embracing existing hardware platforms and focusing on image processing software, GPS, thermal imaging, camera systems, and other application-specific add-ons
Marketing: Many exhibitors made the shift from "this is what I've got, do you need it?" to solution sales.
The UAV market is full of uncertainty. As speed, agility and positioning will continue to be critical as market leaders emerge, standards are developed, and a regulatory environment takes shape.
Here are some standouts from the show: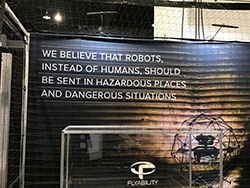 A company that knows their why.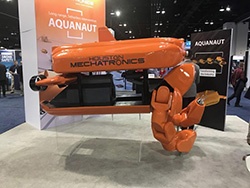 Demos front and center---this one, a land-to-water unmanned vehicle.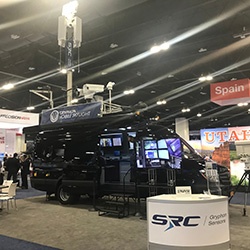 Now my team wants a mobile office like this.
Highlighting full supply chain capabilities.
Working with component and systems companies in or selling to the UAV markets, we've helped others navigate uncertainty and establish a value proposition in a rapidly changing market. The opportunity to enter this market is now, but how can you productize, launch and establish a reputation without industry standards or requirements? Here are a few of our suggestions:
Network—more established markets have existing networks for collaboration and referral. By utilizing these networks, you have an opportunity to bring more value to your customers. Take advantage of existing UAV networks and the chance to grow new ones.
Target—be clear and specific about what you do and don't do
Hypothesize—form your strategy, test, and be open to a pivot
Be a thought leader—market your ideas and innovations prior to product launch
Test—talk early and often with your anticipated target customer about their needs
Measure—try out language, angles, and customer pain points and monitor interest
Let them find you—inbound marketing is a great fit for emerging markets before investing in tradeshows, campaigns and event-based marketing
Our positioning and product launch guides can help. Need to talk it through? Request a consultation.
---
Subscribe to stay in the loop and secure your invite to next year's exclusive roundtable at XPONENTIAL.