Hangouts without the Hang-ups
Google's live webcasting tool, Hangouts on Air, can be a great resource for businesses looking to grow their social marketing strategy. It puts faces to your company name, and lets customers get to know your brand in a more personal way. Especially for technical companies, Hangouts on Air can provide an interactive platform for explaining difficult theoretical topics or application questions, while helping to establish your knowledge and credibility.
This fall, we helped one of our clients host their first Google Plus (+) Hangout On Air to discuss applications for one of their product lines. The resulting YouTube video received more views in its first week than the company's next most popular video received in 4 months after being posted.
Hosting a Hangout on Air, or HOA, can be a bit complicated, however, and not just for those new to Google+. Google's frequent product changes mean all users must continually learn new tricks of the trade. The live, virtually face-to-face nature of HOAs also presents some unique logistical considerations.
Keep these 7 tips in mind when preparing to host a Hangout On Air to avoid annoying hang-ups:
Google+ page and YouTube setup
1. Pages vs. profiles – Make sure you are broadcasting from your Google+ business page and not your personal profile. You can switch to your page by clicking on you profile picture in the top right corner of Google+ and choosing it from the dropdown menu. Don't have a company page? Create one here. A more detailed explanation of the differences between pages and profiles can be found here.
2. That pesky YouTube connection – You'll also want to be sure your YouTube channel is connected to the correct Google identity, and vice versa. Again, you'll want to connect your company YouTube channel to your business page and not your personal profile. Even if you previously set up a YouTube account before you created a Google+ account, a separate YouTube account might be created when you try to connect your Google+ page to YouTube (yeah, it confused us, too). You will have to delete this new channel in the advanced YouTube settings before you can connect your page to your existing YouTube account (also in advanced settings). It's a good idea to make sure you have all your video files saved elsewhere, or download them from the Video Manager, before deleting a channel, just to be safe. However, if you didn't have a YouTube channel before, go ahead and use the one it creates for you. Look here for more info on channel switching.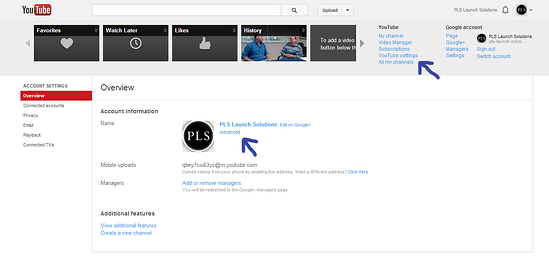 The Hangout environment
3. Setting the scene – Because the Hangout audience will be seeing you in your "natural habitat", you'll need to pay attention to how that space looks. Important questions include:
Where will your speakers sit?
How will the camera be positioned? (Typically HOAs are done video-chat style with speakers facing the camera.)
Is there sufficient lighting? (Avoid backlighting!)
Will your chosen location be quiet enough at the time of your HOA?
Do you need space for a demo? Equipment?
Will you employ product placement or feature posters in the background?
Do your chairs squeak? (Try to foresee potential distractions.)
4. Being heard – A common issue when conducting a webcast is poor audio quality, particularly the presence of an echo. When more than one party is participating in an HOA, feedback between the microphones and speakers can occur, causing this undesired effect. The most common recommended fix is for all participants to use headphones during the webcast. Unfortunately, if there are multiple people hosting from one computer, or if you are doing a demonstration, this setup isn't always feasible. Another suggestion is for the rest of the participants to mute their microphones while another party is speaking; yet this can be cumbersome if there is a lot of back and forth conversation. Play around with these options and the settings in HOA and your computer ahead of time, and decide which solutions will work for you.One more note about making yourself heard during your HOA: When you hit Start broadcast, it will take a few seconds to begin streaming live. Though it's tempting to jump right in, wait about 5 seconds after it says LIVE to begin speaking to ensure that you're not cut off. (That's a lesson we learned the hard way.) If you like, give a small wave to the audience during the silence to avoid awkward blank stares.
Practice and participation
5. Prepping for interaction – A great thing about HOAs is the ability to interact with your audience. Because there are many options for how to go about this, you'll want to make these decisions in advance:
Will you invite other colleagues or experts to contribute to the webcast?
Will you take questions from audience members during the HOA? Will you invite pre-selected participants to join via video to ask their question? Take questions using the HOA Q&A feature, a designated twitter hashtag (#), or both? Do you have backup questions in case no audience members ask questions?

How much time will you designate to guest speakers, demonstrations, answering questions, etc.?
6. Practice makes better – In the case of live webcasts, practice doesn't make perfect, but it does help. Most likely you'll encounter some technical glitch or other issue, but those familiar with live webcasts are used to this; calmly correct the problem and move on. To help your HOA go as smoothly as possible, here are a few ways you can plan ahead:
Practice using the various apps within the HOA tool, and decide which you'll want to use during your webcast. If you're planning to use the screen share feature, have the appropriate screens open before you start. (And close anything you don't want visible!)
Make sure your speakers know what they'll be talking about, and figure out who will handle different technical aspects such as hitting the screen sharing.
Do a complete run-through at least a couple days before the actual event. Short of inviting certain participants and actually broadcasting live, conduct the HOA as if it's the real deal. If you want to test whether YouTube and Google+ streaming will work properly, you can hit Start broadcasting for just a few minutes, then delete the YouTube video and G+ post afterward.
Promotion and re-promotion
7. Spreading the word – The point of a Hangout On Air is for people to watch it, so promote, promote, promote! Ways to get the word out include:
Post about it on other social media channels.
Update your Event with teaser photos or factoids related to your HOA topic.
Ask your usual media contacts if they'll post about it on their social media profiles.
Promote a unique hashtag, such as one you'll use to accept questions (e.g. #askLaunchSolutions).
Send email invitations to customers or other acquaintances you think would be interested.
After conducting your Hangout On Air, the video will be saved to your YouTube channel. You can continue to promote this video or incorporate it into other content such as blog posts, e-newsletters, or web pages. Hint: #ICYMI = In case you missed it.
Check out our 10-Step Guide for Hosting a Hangout On Air.
Hosting a NEW Google+ Hangout On Air from PLS Launch Solutions