Since becoming a HubSpot certified partner 18 months ago, a lot has changed. We've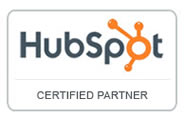 migrated our site to the HubSpot Content Management System (CMS), started a blog, and gotten a lot more serious about social media. We've created several content offers and downloads, implemented Calls to Action (CTA) throughout our site, built landing pages for each offer or CTA, integrated our email marketing with HubSpot, and set up lead nurturing emails (HubSpot calls them workflows because you can automate other things beyond triggering an email). We've also gotten used to looking at analytics more frequently and using the results to guide content development, SEO, and in many ways overall company strategy.
"Inbound marketing is a holistic, data-driven strategy to attract and convert visitors into customers through personalized, relevant information and content and to follow them through the sales experience with ongoing engagement." [HubSpot]
Because that's easier said than done, we thought we'd take some time to reflect on the lessons we've learned thus far and offer some tips for anyone looking to improve their overall marketing impact by growing their inbound marketing efforts. (Please enjoy the sports analogies.)
1. It's a marathon, not a sprint.
Transitioning to or building upon your inbound marketing strategy is a process, and the results aren't immediate. Our website visits increased in steps:
3 months – 25% increase in visits
6 months – 50%
11 months – 100%
15 months – 180%
But once we became more familiar with the platform and started using it more strategically, our traffic sources began to change and our keywords ranked higher. Our organic search traffic increased right out of the gate but leveled off for 9 months at about 90% more organic visits than where we started. As our blog posts and other content continued to bring in visitors, organic visits took a noted step up, increasing by more than 215%. The last 5 months have averaged over 400% more organic visits. After the initial bump, we ditched our Google ads (they were driving a lot of junk traffic) and focused on optimizing our site.
While greater website traffic is useful, obtaining leads and then converting those leads to customers is what counts most. Our leads from the web were minimal but grew immediately after joining HubSpot; they are now 2400% greater than at the start.
Our improved rankings meant we were discoverable by a much wider audience; for example, we landed a client from Australia who found us through organic search.


Change in overall traffic: Colors represent different sources (green = organic); bottom graph shows the progression of organic traffic alone.
Long Shelf Life
Content on your site is continually working behind the scenes. As more buyers focus on researching solutions, they reference your valuable content — sometimes several months after it was originally posted.
Especially for companies that have done little or no inbound marketing, there will likely be a learning curve. It takes time to shift out of the outbound mindset, and certain hurdles need to be overcome. Initial steps will include:
Identify process holes — You'll need to determine what's missing before you try to fill in the gaps. For example, if you don't have a good contact database, email marketing will start off slow. If you don't use social media or aren't in the practice of posting content, you'll need to build an online audience and institutionalize new behaviors among your employees.
Understand the metrics — It's important to have at least a basic grasp of how you'll measure success before jumping into inbound marketing. Inbound marketing should support all of your marketing efforts – not be thought of as an "add-on" marketing tactic. Knowing the performance of tradeshows, advertising, and other promotional activities will help you understand the parts of your marketing mix (traditional and digital) and marketing budget spend that deliver the best results. While this might seem overwhelming, HubSpot makes it so you as business leader can focus on basic metrics at the dashboard level, while your team or your outsourced marketing partner handles the bulk of the analytics.
Prepare to fail — Not everything you do will yield spectacular results. You have to be willing to try different approaches, to take the time to test and verify, until you land on what works. This is where HubSpot really helps you focus. There are built-in tools for optimizing blog posts and web pages, identifying keywords to go after, comparing your performance to competitors, etc. Not only are these huge timesavers, but they also help focus energy on the RIGHT activities with the best payoff.
2. Value depends on how deep you dive.
HubSpot is an Olympic-sized pool of digital marketing tools. We spent the first few months just getting our feet wet, dipping a toe in the shallow end and watching for ripples. We started with optimizing our web pages using HubSpot's built in on-page SEO "helpers", then moved on to creating CTAs and content downloads; after than we started blogging and then blogging more frequently. We began to see that the more we did, the more attention we attracted. HubSpot also helped us identify variables that weren't easy to get to before, such as: Who visits our website? Where do they come from? Where do they go once they're there? How long do they stay? Which channel produces the most leads?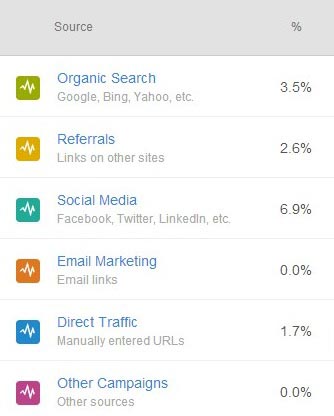 Lead conversion by source: Before joining HubSpot, we had minimal web leads; now our conversion rate is much higher (ex: 3.5% of our organic visitors become leads).
The ability to track the parts of our site people were visiting provided insight as to their needs and interests. With this information, we were able to develop better strategies to connect with and provide value to our customers. We began creating content that reflected those points of interest, such as blog posts, eBooks and tip sheet downloads; with HubSpot measuring conversion rates, we could a) see which downloads made the greatest impact with customers, and b) make informed decisions about content going forward.
If you're still tentative about making the plunge, here are some good places to start:
Add a Contact Us and/or Request for Quote CTA and form to your website — This is one of the simplest ways to collect information from potential customers. Tip: Make sure to include customer Name, Company, Email, and Phone as required fields. Also make sure there's a text field for the visitor to specify additional information.
Connect your social media accounts — Even if you don't have much to post yet, integrating your Twitter, LinkedIn, and Facebook accounts with HubSpot will make it easier to start building and monitoring your social presence. You can easily promote blog posts, landing pages and other content to all your sites at once.
Identify the primary keywords

you're going after

— Use the built-in keyword suggestion tool to look for "longtail" keywords

.
3.

It's a marathon,

Actually, it's more of a triathlon.
Inbound marketing works best when it involves multiple channels. If you're going to a tradeshow or have just written a stellar new whitepaper, promote it on social media (more than once!), send out an email invitation to visit your booth or download the paper, create a landing page for it, and write about for your blog. Make sure any web pages or posts include good SEO, for anyone who might simply search for the subject.
Here are some additional tips for capitalizing on the diverse offerings of HubSpot:
One of the advantages of a platform like HubSpot is the ability to tie in traditional media (e.g. ads) with digital. Although a print advertisement can't be clicked, you can still make an effort to track its impact. Create a unique landing page and URL, and include it on an ad in a specific publication; any direct traffic to that web page is likely from that ad.
While a tweet might just be a 1-second blip on a newsfeed, people stick around for in-depth, valuable content, so whitepapers and other downloads are key. Make sure yours require a form to download, so you can collect leads and assess who is interested in what information. Similarly, longer blog posts tend to have the most reads, so if you don't think you'll be able to blog very frequently, focus on quality over quantity of posts.
In addition to your company social media pages, HubSpot also allows you to sync up and post to your LinkedIn Groups. In general, participating in LinkedIn Groups is a great way to engage with potential customers with niche interests relevant to your company, and to establish yourself as an authority on those topics. With HubSpot integration, you can easily share blog posts and other content with pertinent Groups; their members will be much more likely to engage with the content than a broader audience. Tip: Make sure that you content is relevant, that the language you use is not sales-y, and that you do not violate any Group guidelines; once a moderator blocks you from posting in one LinkedIn group, you're locked out of them all.
While there are some corners of HubSpot to which we have yet to venture, we've found through our experience that it's better to be a player than a benchwarmer. Remember, you can't go for the gold if you're not even in the game.
Let Launch Solutions be your HubSpot coach. We can demo HubSpot for you or give you a free 30-day trial.