Lumetrics: A Case Study in Content Success
Not too long ago, Lumetrics, a Rochester N.Y. based company who makes high-precision thickness measurement and gauging systems, was spending around $3,000 per month on Google AdWords. The clicks were there but the leads weren't. With only 2-3 new leads per week, Lumetrics' leadership knew that their marketing strategy had to change. At the advice of Launch Team, Lumetrics began using the HubSpot Marketing Platform for an inbound rather than outbound marketing approach. Lumetrics' engineering team began developing technical application notes meant to drive not just web visits but new leads as well.
Lumetrics made a commitment to content generation from the beginning, taking a round robin approach to developing two-page technical summaries written by the company's engineers. Each paper addresses a unique technology or specific application. Each piece of content brings a spike in online traffic when it is released and the current bi-monthly schedule continues to result in 3 to 5 new leads per day. For Lumetrics, these leads are already turning into revenue generating accounts.
"This is the strongest first half of a year we have ever had"

says President and CEO, John Hart.
One of Lumetrics' most successful pieces of content thus far has to do with bonded silicon wafer assemblies, on which it can be difficult to measure thickness and flatness.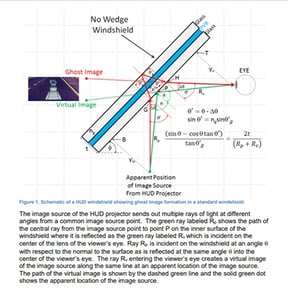 This technical note, promoting the OptiGauge II, has been downloaded through social media, email and calls-to-action placed strategically on the company website and boasts a conversion rate over 40%.
A more recent document addressing the challenges of measuring windshield wedge angles for head up displays (HUDs) in the automotive industry captured over 50 leads in the first 24 hours. This single piece of content increased awareness of the Lumetrics brand and the company's unique capabilities to a worldwide audience of engineers all working to solve the same problems. These new relationships have led to increased sales and even larger projects that are in the works. HUDs are an important part of the future of automotive display technology and Lumetrics is a step ahead on sharing educational content with automotive engineers.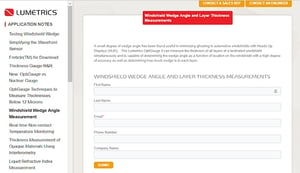 Lumetrics' inbound approach, which dramatically increased lead count, has been boasting a visitor to lead conversion rate ranging as high as 47% at times. It is also allows for marketing dollars, which were previously spent on AdWords, to be reallocated to other marketing channels such as tradeshows. Not only are the engineering team and marketing team feeling proud of their joint efforts, the sales team is reaping the benefits of Lumetrics' inbound approach as well. The sales team comes into the office each day expecting to see new leads in the HubSpot pipeline. This has further cemented the relationship between the sales and marketing arms of the company, increasing the ever elusive sales and marketing alignment that so many companies struggle to achieve.
Congratulations to Lumetrics on their success. If you would like to learn more about how your company can use educational content to generate and nurture leads, visit Launch Team's Inbound Marketing Page or request a marketing consultation.
---
Are you ready to explore marketing technology for your team? Learn more about our services here.