How Do Benchmark High Tech Companies Allocate their Marketing Budgets?
In recent B2B Marketing Mix studies from Forrester, IDC, and others we can see how B2B high tech companies allocate their marketing dollars to fuel business growth. While these studies have strong representation by large high tech firms, the general trends and many of the specific findings are spot-on for small and midsize businesses alike.
The Squeeze Continues
Finding 1: Budgets remain flat, but mix is shifting
It's no surprise that the protracted challenging economy has caused high tech marketers to figure out how to do more with less. While the economic data and sentiment are improving, budget pressure remains. This is not a bad thing when it increases rigor and measurability. Flat budgets and increasing demands on the marketing function forces leaders to reexamine marketing goals, strategies, tactics, and activities.
Every company's situation is different. A marketing assessment is a great place to start. An assessment will help identify marketing building blocks and priorities to address, based on your current situation and business goals. An objective assessment can help you get out of the rut of doing what you've always done and instead focus on what works.
Integrated Marketing Mix: Digital Channels Grow
Finding 2: Digital spend up to 60% of budget and growing.
In a 2011 Marketing Sherpa survey, we discover how other B2B companies allocate marketing budgets (not including personnel). We clearly see that digital marketing activities garner strong attention with about 60% of the total budget (not including personnel).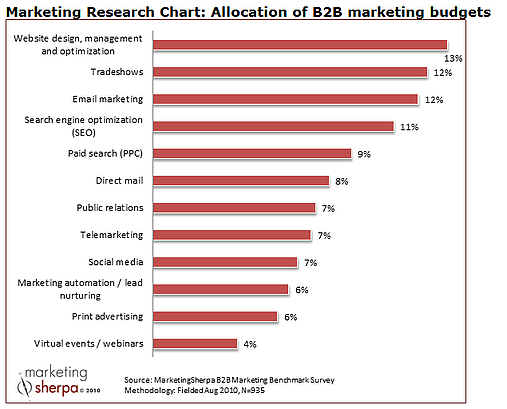 Other studies in which personnel is included, reveal that digital marketing channels represent 20% to 30% of the total marketing budget with the remainder allocated to traditional marketing activities. Although overall marketing budgets are expected to be flat to low single digit growth in 2012, digital marketing budgets are expected to grow 20% year over year for the foreseeable future, primarily through the reallocation of resources from traditional marketing activities.
Digital & Traditional Examples

| | |
| --- | --- |
| Digital | Traditional |
| Email marketing | Direct mail |
| Mobile apps | Print, radio, TV advertising |
| Website, SEO | Trade shows |
| Social media | Collateral |
Position For Success
Finding 3: Improving lead generation is the top priority for 2012 - target prospect to qualified lead takes over 10 months.
What's the right mix of marketing channels and activities for best results? How does your allocation compare to the averages? For most of our customers, a balanced marketing mix drives the greatest ROI and business results. Your customer is changing, and so is the way they buy. How and where you engage with prospective customers becomes more diverse each year, making it imperative to stay up on the latest trends, such as mobile marketing.
Not sure where to start?
Understand what's working and what's not.
Stop immediately those activities that do not work.
Reallocate budget to activities with the greatest payback.
Expand into a new marketing medium - experiment and measure. Not yet in social media? Introduced webinars?
Need an objective eye or some guidance in getting started? Give us a call or sign up for a free 30 minute advisory call to discuss your situation.