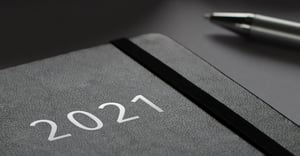 Well, 2020 didn't go quite as planned. Even for those in essential businesses with products and services in high demand, some basic assumptions changed. WHAT you do may be a constant, but consider if the HOW, WHO, WHERE and WHY are now new variables.
Rather than changing the date on your 2020 plan to 2021, here are three ways leaders are approaching their planning and budgeting for next year:
1. Air it out
For us, opening up our 2020 business plan was like digging up your childhood time capsule with some of the trepidation of looking back at a more naïve time. After reviewing the year more closely, we accomplished many of the plans and strategies and most of the remaining ones are no longer feasible (speaking at live tradeshows, for example).
Our word of year for 2020 was BRAVE. For 2021, it's THRIVE.
Here's our approach:
Review 2020 plan by the end of the year as a team. Ruthlessly edit the activities to the few remaining priorities that are still both important and feasible, capping out at three.
Conduct a "what's working / what's not working" exercise as a group to help prioritize near-term actions.
Design sprints to complete these priorities by year's end, so we enter 2021 without a 2020 hangover.
Start 2021 planning on a fresh sheet. Revisit the vision, mission, goals, and positioning in light of lessons learned from this year.
In a year of change, gratitude and recognition have been critical.

2. Scenario Plan
For Jill Fratianne, HubSpot Partner Channel Manager, it's "time to plan and dream again." We know how to plan around worst case scenarios now. 2020 was like a floodlight on any point of friction in your business. Embrace the change, address the issues, and prepare to move forward.
Her theme of 2021 is EVOLVE.
How that looks:
How do we operate if nothing changes? How do we operate if they do? Even as live events and customer meetings open up, your customers may not wish to attend. Many parts of remote work and online sales are here to stay. If you can reduce friction and effectively engage, earn trust and work through a deal remotely, you'll win.
Invite more positivity. Seek out those who give you energy. It's that energy and activity that will fuel your growth.


3. Strengthen the Core
Our forward-thinking clients spent 2020 supporting their people, and next year is the ideal time to capture and build upon that exact strength.
2021's key word here is: Culture
Clients will continue investing the time and the funds to identify and strengthen their brand to articulate competitive advantage. These activities often include:
Voice of the customer—to understand from an outside perspective their customer experience, common characteristics to inform both their hiring and developing practices, but also their sales and marketing.
Market and product positioning—assess the changing competitive landscape, as many of their competitors have pivoted, left the market, or changed the delivery model. Then, work with all of your stakeholders - from engineering and product development to marketing, sales and customer service - to define your unique value proposition.
Branding—stand out and tell your story. Ensure you're living the brand at every touchpoint with your customers and people.