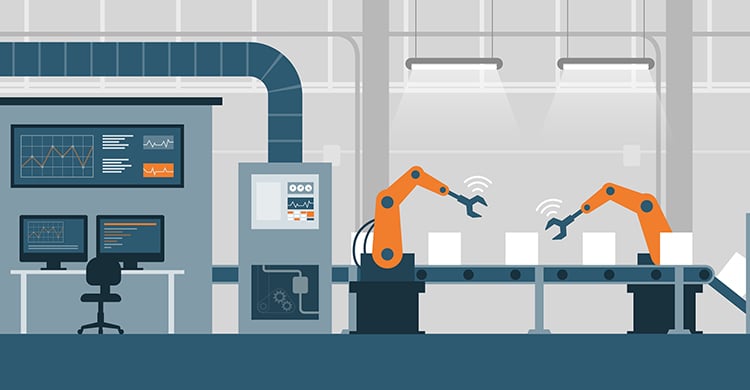 It's hard to imagine that we will be missing FABTECH 2020 this year, among many other cancelled trade shows. Last year, leading up to FABTECH 2019, we covered the market drivers, upcoming trends, and widespread changes in the advanced manufacturing markets. This year, despite the cancellation, sales and market growth continues.
At the time of last year's update, in the later months of 2019, manufacturing in the U.S. hit a 10-year low. This dip can largely be attributed to trade war activity between the U.S. and China, which led to increased tax costs, lower business confidence, and higher supplier costs for many manufacturers. What does the manufacturing market look like in 2020 and beyond?

Get your marketing plans back on track. Download our free Marketing Roadmap

Growth Drivers: The Industries
Continued growth is anticipated through next year, but what industries are really driving that growth within this massive market? Well, according to a projection from February of this year examining the growth potential of the automation industry into 2021, there is an expected15% growth overall, from $186B in 2019 to a projected 2021 value of $214.3B. Within this market, we're seeing the greatest potential for Artificial Intelligence (AI), drones, and 3D printing, respectively.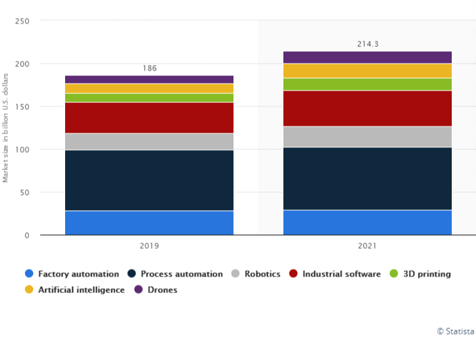 Artificial intelligence growth is expected to be nearly 60%, growing from $11.3B in 2019 to $17.6B in 2021. The drones market follows at just above 50% growth, from $9.2B to $13.9B. Thirdly, we see 3D printing with an expected growth of 32%, from $10.9B to $14.4B.
It's no surprise that AI would be seeing such high growth potential, especially with the impact of COVID-19 on the industry. With a major push to get workers socially distanced and out of the warehouse, AI is the next logical step to fulfilling some of the more complicated manufacturing operations. The same sentiment can be applied to the anticipated growth in drone technology. Although drones have been growing year-over-year, there is an even greater urgency to rely on drones for surveillance, delivery, crowd-management, and much more.
Growth Drivers: The Companies
Behind these growing industries are the companies producing, selling, and purchasing these technologies in the market. Among the many players producing equipment in the automation space, there are a few that come out on top in market share. One report lists the greatest market share in this space to be Siemens, Mitsubishi Electric, and Rockwell Automation, among others.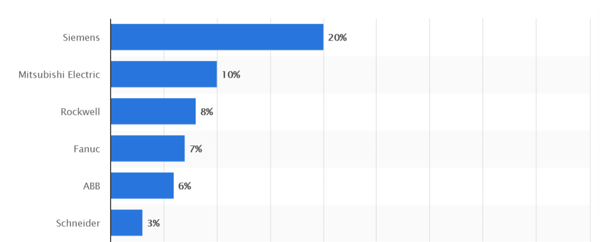 It's not just the individual successes of these businesses contributing to industry growth, but the increasing collaboration and partnerships. A Deloitte study points to the recent uptick in partnerships as a move to improve the customer experience or expand capabilities. Companies making digital advantages a priority, a group that Deloitte coins as "digital front-runners," are excelling among the competition in service and partnership growth. The digital front-runners are creating value 2X greater than their peers with their flexibility and willingness to partner within their ecosystem. Clearly, a forward-looking focus on digital operations providesetitive advantage.
Looking Forward
There is major uncertainty as we look forward to market projections in any industry. Undoubtedly, the coronavirus pandemic and the upcoming election could drastically change the outlook for these markets even with projections taking these into consideration. This is why it's no surprise to find that a Kronos advanced manufacturing report stated market volatility as the top market challenge going forward. Being the greatest concern for most organizations, this has driven companies to begin looking inward for process and technology improvements. The digital movement is growing rapidly throughout the advanced manufacturing industries with an focus on putting people first. The top technology investments in the industry are focused on higher productivity, better customer relations, and market research.

Additionally, manufacturers are investing in retaining and recruiting top talent through workshops, leadership management training, and more community partnerships. The growing effort to focus on people (customers, suppliers, and employees) through technology investments and HR investments, makes us optimistic about the future of the industry.
It's unknown what the future holds for trade shows or the market as a whole, but we hope to see you at FABTECH 2021! If you plan to host a virtual event or webinar to showcase your products this year,
let us know
, and we would be happy to help make that a success.
Shifting your trade show budget to something new? Check out some of these other blog posts:
---
About Launch Team, Inc.
We are a multi-dimensional, highly focused marketing firm that has helped companies in technical and engineering-driven industries succeed. We've been doing this for over 30 years, increasing and improving our offerings along the way. Our team's backgrounds include optics, chemistry, biology paired with a core business and marketing focus. This allows our team a unique understanding of your business, the decision makers you work with, and the engineers who will evaluate your solution.