In my recent blog post in the optics and photonics magazine OptoIQ, I cover a business strategy process and how to write a business plan your team can execute. The following are examples for a small precision manufacturing company.
Elements of a Simple Business Plan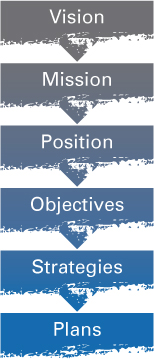 Too many businesses operate without a business plan, leading to opportunistic growth, high risk from out-of-balance revenue (too much revenue from any one customer or industry), and wasted resources. The simplicity and speed of the one-page business plan may help. Here are definitions and guidance for each element of the one page business plan:
Vision: What your business looks and feels like in 3-5 years.
Position: Your "sweet spot" — who you serve, what you offer them, and why you're different.
Mission: Why you exist, with a focus on the benefit to the customer.
Objectives: Specific, measurable, actionable, timed goals. (Max 6-8)
Strategies: How you'll achieve those objectives. (4-6 statements that set direction and methodology for building and managing business growth.)
Plans: Actions necessary to implement those strategies
Business Strategy Process in Action
Here's some examples for a precision manufacturing company:
Vision: COMPANY will be the global leader in glass optics manufacturing, helping enable disruptive and life-changing new technologies. Our people will be known as forward-thinking innovators internationally. The company will continue to be a family run, successfully handing the reigns to the next generation, with new ideas and honoring our heritage of technology innovation and collaboration.
Mission: COMPANY serves its customers as a key partner in enabling new technologies. It serves its employees and community as a growing, family-focused employer.
Positioning: To program managers of life sciences and entertainment companies, COMPANY is the leading provider of flat optics who helps its customers create innovative technologies because of its unique development partnerships and high tech engineering services.
Objectives:
Increase sales from $xxM to $xxM by end of 2013 fiscal year
Improve profitability to xx% EBITA by end of 2013 fiscal year
Position for more sophisticated solutions, improving average per-unit cost to $xx and average per customer spend to $xxxxx
Replace at-risk Defense revenue (est. 10% drop) with increase in Life Sciences revenue by end of year
Create succession plan and communicate continuity to customers.
Strategies:
Launch European dealer channel
Increase Life Sciences sales by increasing thought leadership and the use of digital marketing channels
Improve metrology and quality assurance department with capital equipment and key new hires to increase tolerances and systems capability
Explore and potentially pursue emerging standards for Life Sciences customers
Create cross-training development plan for key high-potential managers.
Strategies should be set in a way that your key managers can break into actions for their teams. They are not gospel — write in a way that you can assess, test, and decide if you should move forward or replace as the year progresses and you learn more.
These are just examples or thought starters. What are you looking to achieve? Want to discuss? Contact us.