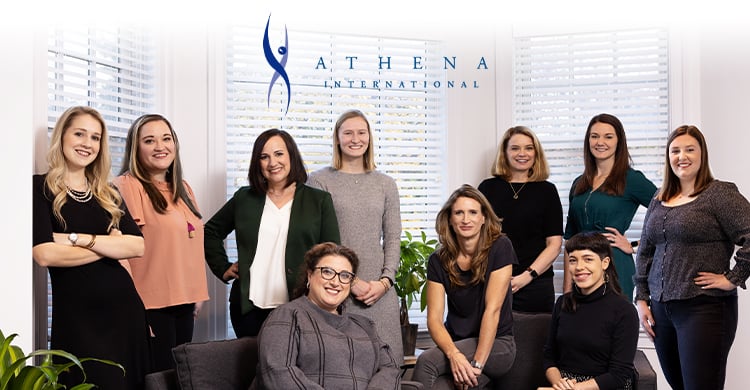 We are proud to have been among all the finalists at the 2022 ATHENA awards ceremony, sponsored by the Women's Council of the Greater Rochester Chamber of Commerce. Many congratulations to this year's winners!
---

The ATHENA Organizational Award honors women leaders who demonstrate excellence in their field, create dynamic, supportive company cultures, and give back to their communities. We're so excited to be a finalist for this award – joining the ranks of other women in Rochester who embody these values every day.
Nominating Michele Nichols and Launch Team for an Athena Organizational Award was an easy decision. President of the company for 14 years, she is the driving force behind this 35-year-old marketing firm that helps STEM-based organizations around the world grow, change, and scale.
Michele is a known leader in sales and marketing for the optics and photonics and advanced manufacturing industries, both of which are traditionally male-dominated fields. Not only is Michele a mother of three and head of a thriving company, but she is also passionate about:
Developing women in STEM leadership positions through her work with Luminate,

the world's largest startup accelerator for optics, photonics, and imaging technology.

Investing in students' leadership potential

by serving on

St. John Fisher College's Dean's Leadership Council,

St. John Fisher College Alumni Board continued v

olunteer work for the Career Services department and mentoring for the MBA program in the development of student capstone projects.
Empowering the underserved through monthly charitable giving to local nonprofits and annual pro bono work.
What's remarkable is the company culture Michele has carefully curated – one that's based on flexibility, empathy, and action.

Developing Potential While Protecting Our Core Values
Our company vision ties directly into the international ATHENA awards program. With a team of 11 marketing professionals, predominately women, Michele operates a high-trust environment aimed at personal and professional growth, encouraging open communication and debate to empower her team while fostering creativity and driving results for clients. Hear what our team has to say:
"Michele fosters a productive and safe environment that allows us not only to grow but also make mistakes and learn from them. She is devoted to making sure everyone in her team feels comfortable and engaged in their work, and always open to offer solutions and help when needed."
– Victoria Ferroni, Digital Marketing Specialist
"I have always wanted to pursue a life of service and for me, that meant joining the Air Force Reserve. Michele was very accepting of my goal. I am encouraged to always pursue experiences that will ultimately allow me to achieve my full leadership potential."
– Cameryn Bugman, Digital Marketing Specialist
"As a young woman working in what can be male-dominated industries, I've never had to doubt that Michele supports me in having a voice in any room I step into."
– Aimee Schenck, Program Manager
"Our culture is dynamic in that vulnerability is seen as a sign of strength, honesty, and agility. This openness helps us learn from each other and adds depth and value to our relationships."
– Alison Arnold, Content Marketing Manager
Want to learn more about our team and values?